BAFTA TV Awards: Noel Clarke controversy threatens to overshadow ceremony – with stars expected to call out abuse | Ents & Arts News
The film and TV sector needs to take more responsibility for abuse in the industry, the chair of Time's Up has told Sky News.
Dame Heather Rabbatts, who is also a non-executive chairman of actor Noel Clarke's production company, said the sector "absolutely needs to find ways in which it can take more responsibility".
Clarke, a prolific film and TV producer and actor, was handed the outstanding contribution award during the academy's film awards earlier this year, despite BAFTA being aware of harassment allegations against him.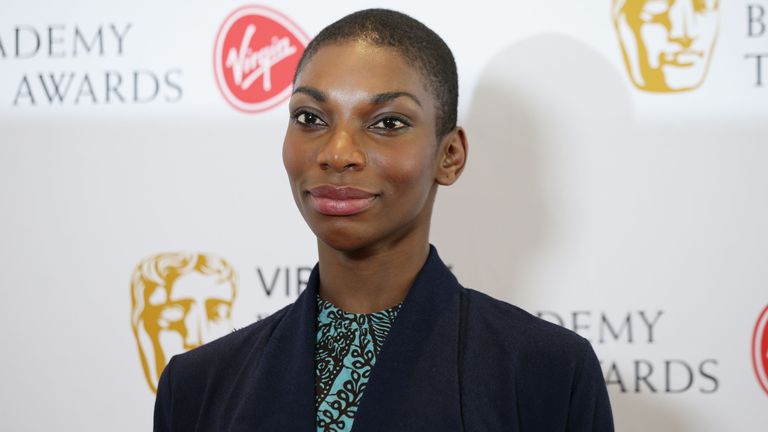 The Guardian spoke to around 20 women, with more coming forward afterwards, to accuse Clarke of sexual harassment and bullying – claims he "vehemently denies".
Dame Heather told Sky News she did not know about the allegations, and nor did any of the women come forward to Time's Up – a charity working to end sexual harassment in the workplace set up in January 2018.
She said: "I do think there's been progress, but absolutely we need to look laser-like at 'what are the gaps?, what is it that we need to do next?' And there isn't a simple answer. It is only by working together that we will come up with some collective solutions."
It comes as stars of the small screen get ready to walk down the BAFTA red carpet this evening for the TV awards – but the controversy surrounding Clarke still hangs in the air.
Alex Pumfrey, head of the Film And TV Charity, says safeguarding people who work in the industry and making sure they feel better supported must now be a priority, and that there should be "some sort of industry-wide reporting system that people can go to that will identify and deal with those issues when they occur".
Speaking to Sky News, she said that because of the nature of the industry, with many people working on freelance projects, "incidents often occur in lots of different places, under lots of different employers" and "that's part of the complexity of spotting them and dealing with them".
This year's TV BAFTA nominees include Sir Steve McQueen's Small Axe and Michaela Coel, whose hit show I May Destroy you deals with issues of consent and bullying.
Film Critic Hanna Flint told Sky News she would not be surprised if Coel and Sir Steve in particular refer to the allegations against Clarke if they give winners' speeches.
"They are outspoken people, they're not afraid to speak their mind," she said.
Coel issued a statement supporting the women who made allegations against Clarke and has also spoken openly about abuse in the industry. And Sir Steve criticised BAFTA last year, warning it was in danger of "becoming irrelevant" if it did not address the lack of diversity in its nominations.
After the allegations against Clarke came to light, BAFTA suspended his membership and took back the accolade, but faced fury from the industry for not acting quickly enough.
Deputy chair of BAFTA Dame Pippa Harris told Sky News at the time: "If we had had one fraction of the information that The Guardian had had, we would never have given an award to Noel Clarke.
"That is obvious, but we didn't have that information. The first time that we saw the actual allegations against him was when they were published by the Guardian newspaper and as soon as we saw the allegations, we suspended the award."