Labour no longer being monitored by equalities watchdog after antisemitism reforms | Politics News
The Labour Party had become "an incubator for this poison" of antisemitism under its former leadership, Sir Keir Starmer has said – as he vowed that the changes made to ensure "zero tolerance" are "permanent".
The Labour leader's party is no longer being monitored by the equalities watchdog after making the changes demanded over its law-breaking handling of antisemitism under Sir Keir's predecessor Jeremy Corbyn.
The Equality and Human Rights Commission (EHRC) had been scrutinising the party since ruling it was responsible for unlawful acts of harassment and discrimination more than two years ago.
But the watchdog has said that, under Sir Keir's leadership, the party has improved its complaints and training procedures to protect current and future party members.
Sir Keir said the judgment that the necessary reforms have been made was an "important moment in the history of the Labour Party".
Writing for The Times newspaper, the Labour leader described antisemitism as "an evil", adding: "Indeed, it can be those who call themselves 'anti-racist' who are most blind to it."
The EHRC's report into the Labour Party was published in October 2020 and detailed the "breakdown of trust between the party, its Jewish members and the wider Jewish community".
Describing the investigation as "a humbling and painful experience" for his party, Sir Keir reflected on his decision to accept the EHRC's report in full and create a "zero-tolerance of antisemitism", adding: "We also had to be clear that anyone who did not accept those findings had no place in the party."
The EHRC's report was critical of the party's handling of antisemitism complaints under Jeremy Corbyn's leadership.
Immediately after its publication, Mr Corbyn claimed "the scale of the problem" of Labour antisemitism allegations was "dramatically overstated for political reasons by our opponents".
He also said he did not accept all of the EHRC report's findings in comments that prompted his suspension from the party.
Mr Corbyn remains a party member but now sits as an independent MP.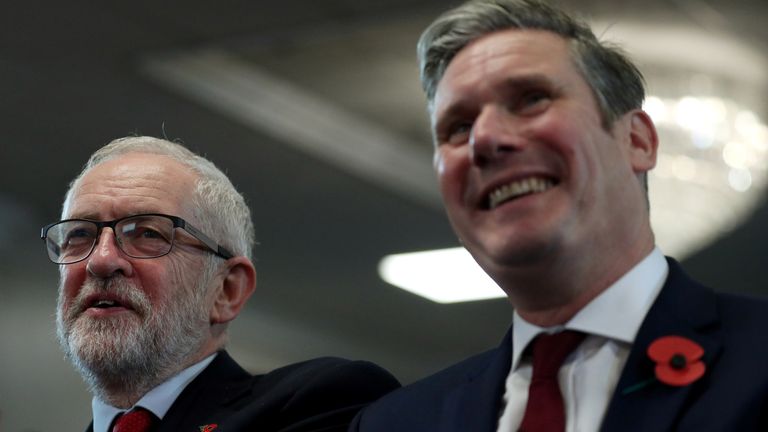 Sir Keir's predecessor subsequently sought to clarify his remarks and a five-member disciplinary panel of Labour's National Executive Committee decided that he should be reinstated.
But Sir Keir stuck to his decision after facing pressure from angry MPs not to allow Mr Corbyn back into the parliamentary party.
Despite the end of the probe into the party by the EHRC, the Labour leader wrote in The Times that he is "under no illusion that the job is done".
"This is not a moment to celebrate. Instead, it is a moment of reflection; a time to apologise once again," he said.
"Ultimately, our success will be judged not by me or by the EHRC or by how much effort we put in, but by whether those who were so badly let down feel ready to call Labour their party again."
'Nobody is forcing you to stay'
The Labour Party has implemented a programme of change since the report was published in 2020.
It includes clearing the backlog of antisemitism complaints, transforming the party's complaints handling processes and ensuring two independent complaints boards have been fully operational since April 2022.
It also includes terminating the membership of hundreds of individuals who expressed a desire to "campaign against the recommendations of the EHRC report".
Sir Keir said: "The changes we have made aren't just fiddling around the edges or temporary fixes. They are permanent, fundamental, irrevocable.
"The Labour Party I lead today is unrecognisable from 2019.
"There are those who don't like that change, who still refuse to see the reality of what had gone on under the previous leadership. To them I say in all candour: we are never going back.
"If you don't like it, nobody is forcing you to stay."
Antisemitism 'on the rise' – Spielberg

Jewish Labour Movement (JLM) national secretary Adam Langleben said: "We welcome the EHRC giving Labour a clean bill of health."
Mr Langleben said the Labour Party was in "moral turpitude and political denial" in 2019, adding: "Under Jeremy Corbyn's leadership, it had become an unsafe space for Jews."
Mr Langleben said "the Labour Party we see today is unrecognisable from what the party had become under Corbyn".
He continued: "Jews can once again call Labour their natural home and have no concerns about voting for it.
"That this is the case is a testament to the leadership shown by Keir Starmer."