Midhurst fire: Flames engulf 400-year-old hotel 'housing Ukrainian refugees' in Sussex | UK News
A 400-year-old hotel in West Sussex that was said to be housing Ukrainian refugees has been badly damaged by a fire.
It's believed to have started just after 1am at a property on North Street in Midhurst before spreading to the roof of the Angel Inn next door.
A local man said about 30 people, including children, were evacuated.
"There were a number of Ukrainian refugees in the hotel, which had around 15 rooms," said Hilton Holloway.
"I spoke to one young woman who seemed relatively calm."
The local fire service described the blaze as "significant" and initially sent 10 fire engines, an aerial ladder platform and a water carrier.
Shortly after 6am it said the fire had "escalated" and 14 engines were on the scene.
"Over 30 people have been evacuated from the building and firefighters are working hard to bring the fire under control," said West Sussex Fire and Rescue Services.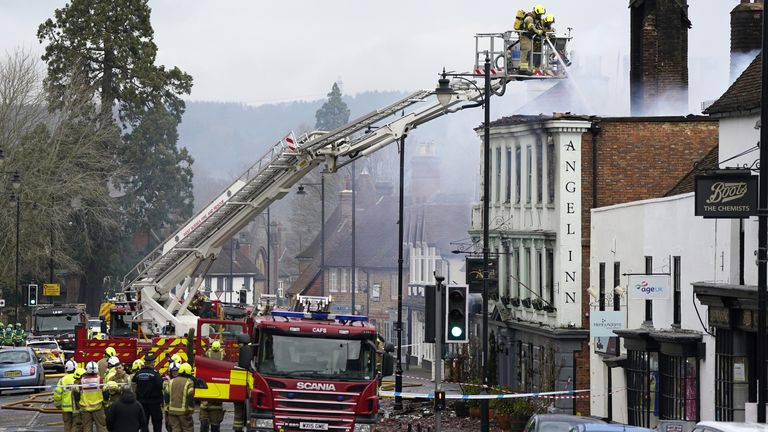 An update on Twitter at 8.51am said the fire was still being extinguished but "attendance is being scaled down".
Area manager Richard Abbot said it was too early to know the cause and that investigations will start when it's safe.
No casualties have been reported.