Sir Keir Starmer meets Volodymyr Zelenskyy in first visit to Ukraine as opposition leader | Politics News
Sir Keir Starmer has met with Volodymyr Zelenskyy today as he made his first visit to Ukraine since Russia's invasion last February.
The Labour leader's arrival in Kyiv comes just over a week after Ukrainian President Volodymyr Zelenskyy made a surprise trip to London to meet Prime Minister Rishi Sunak and King Charles.
Sir Keir told reporters that it is "very important" for him to be in Ukraine "making clear that support for Ukraine in the United Kingdom is united".
He is also said to have reaffirmed the Labour Party's "unwavering support" for Ukraine in its fight against Russia.
As part of the visit, Sir Keir travelled to Bucha and Irpin to see the sites of Russian war crimes.
He also met with experts in human rights, reconstruction and appropriations.
Reaction to Sturgeon's shock departure – politics latest
Speaking after his meeting with President Zelenskyy, Sir Keir said: "I had a very constructive meeting with President Zelenskyy, and we were able to discuss the support that Ukraine needs and the justice that it deserves.
Sir Keir Starmer visits Kyiv

"We spoke about the need for that justice to cover both the use of Russian state assets for reconstruction and the need for there to be prosecutions for war crimes.
"I was able to tell him that should there be a change of government when we have a general election here, the support for Ukraine will remain the same.
"It's a very important message for me to be able to relay to the president face to face, and I've been able to do that this afternoon.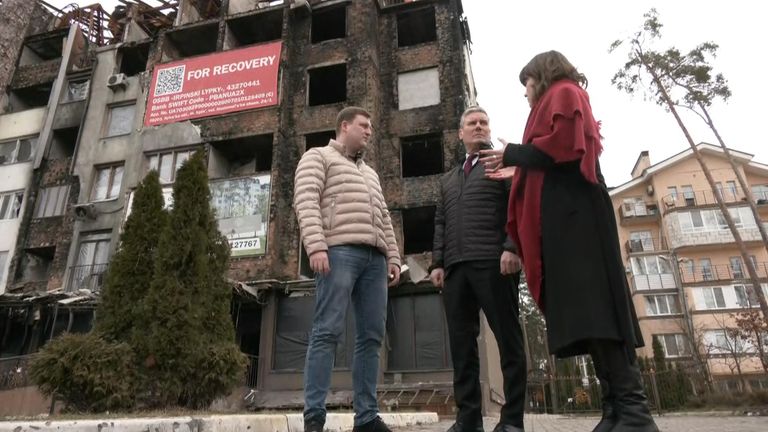 "We discussed a range of issues, he's very concerned about support through weapons and the continuation of training for Ukraine, and I stressed that the Labour Party supports and would maintain the defence, training, and technological support the current UK government is providing.
"I've said throughout this conflict there will be no difference between the political parties on this, so we will continue to work with the government to see what further support we can provide."
Starmer's Ukraine visit latest attempt to be seen as PM-in-waiting
In Prime Minister's Questions last week, minutes before President Zelenskyy addressed MPs and peers in Westminster Hall, Sir Keir Starmer said it was vital for Parliament to stand together in full support of Ukraine.
But his visit to Kyiv and his face-to-face meeting with the president in the country's war-torn capital will inevitably be seen as the Labour leader's latest attempt to be seen by the British public as a prime minister-in-waiting.
The Labour leader has already met Ukrainian soldiers being trained by the British Army on a visit to Salisbury Plain last August and earlier, just 15 days after Russia's invasion of Ukraine, he met NATO troops during a visit to Estonia.
In PMQs last Wednesday, in his most bipartisan exchange yet with Rishi Sunak, Sir Keir declared: "Across this House, we must speak with one voice and say that this terrible conflict must end with the defeat of Putin in Ukraine."
Later, after President Zelenskyy's emotional Westminster Hall speech, Sir Keir was introduced to the president by Commons Speaker Sir Lindsay Hoyle before having a further conversation with him at a reception in the Speaker's Apartments.
Sir Keir has been hoping to visit Ukraine for several months, going back to when Boris Johnson was Prime Minister last summer. Traditionally, governments are not enthusiastic about opposition leaders or shadow ministers making such trips.
But It seems that Mr Sunak has given his blessing for Sir Keir's trip and the Labour leader's strong backing for the prime minister on Ukraine, not least his show of solidarity at PMQs last week, will have been noted in Downing Street and Kyiv.
Sir Keir is not the first national opposition leader to visit Kyiv, however. Last year the head of Germany's biggest opposition party, the Christian Democratic Union, travelled to the capital last May and was received by President Zelenskyy.
Mr Sunak met the president in Kyiv in November, pledging to match the support given to Ukraine by Mr Johnson. And during the president's UK visit last week he said in response to his plea for jet fighters: "Nothing is off the table."
During Mr Zelenskyy's visit to London, the UK government announced the country will now train pilots on the operation of NATO-standard fighter jets as well as marines alongside expanding the training of Ukrainian recruits from 10,000 to 20,000 soldiers this year.
It had been reported over the summer that Sir Keir had approached the Ukrainian president about the possibility of a visit as opposition leader.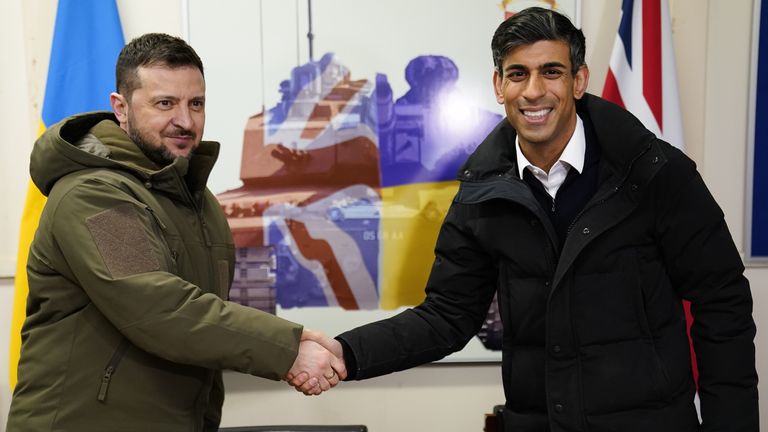 The trip comes as the Labour leader looks to strengthen his relations with the Ukrainian government as the fight against Russia nears its one-year anniversary.
Read more from Sky News:
Putin 'playing for time' to 'bomb his way to negotiating table'
Bodies of British volunteers returned in prisoner swap with Russia
Sir Keir has previously visited the Polish border and troops in Estonia where he affirmed Labour's "unshakeable" commitment to NATO.
The prime minister made a surprise visit to Kyiv back in November on his first trip to Ukraine since taking office.
Mr Sunak pledged that UK support for Ukraine in the fight against Russia would remain steadfast.
President Zelenskyy praised the "meaningful and useful visit for both our countries".