Three arrested after spate of 'sushi terrorism' in Japan | UK News
Three people have been arrested following a spate of "sushi terrorism" videos posted online in Japan.
Videos showing customers interfering with food and pranking other diners in some of Japan's conveyor-belt sushi restaurants, known as kaitenzushi, caused shares in some of the venues to plummet.
One video showed a man licking the top of a soy sauce bottle on a sushi train before going on to lick his finger and touch pieces of sushi believed to be intended for other customers.
Other videos showed people putting wasabi on other customers' sushi and licking a communal spoon from a container of green tea powder.
Three people who were all part of the same group of diners have been arrested on suspicion of forcible obstruction of business, the Kyodo news agency reported.
The arrests are believed to be the first for customers suspected of behaviour "deemed unhygienic and a form of harassment", the agency said.
Those arrested include Ryoga Yoshino, 21, who allegedly licked a communal soy sauce bottle at a Kura Sushi restaurant in the city of Nagoya last month.
Two minors aged 19 and 15 who police allege were also involved in sharing a 10-second clip online capturing the act have also been arrested. Police said it constituted obstruction of business under the Penal Code.
All suspects admitted to their involvement, the police said.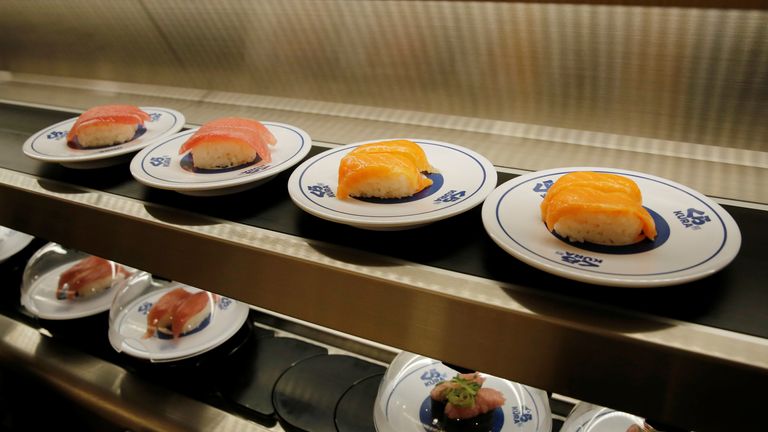 Behaviour 'shakes the foundations' of relationship with customers
Kura Sushi said it appreciated the "swift response" by the police, according to SoraNews24.
In a statement it said: "Such inconsiderate action… shakes the foundations of the relationship of trust we have built with our customers, and we sincerely hope that broad knowledge that such actions are a crime will prevent others from engaging in such behaviour."
Read more:
Japanese outrage over 'sushi terrorism' sees shares plummet
Japan considers raising age of consent from 13 to 16
Kura Sushi said it would install cameras above conveyor belts to monitor diners.
Last month the Sushiro chain changed its service rules, asking customers to collect condiments and utensils from a serving point rather than placing them on individual tables.